Member Spotlight – March 2020
Our Member Spotlight for the month of March is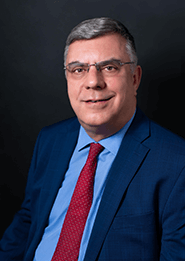 About John:
John M. Traier is a Certified Public Accountant (CPA) and member of Jimenez & Traier, LLC, a public accounting firm located in Wayne, New Jersey.
Jimenez & Traier provides tax return preparation services to individuals, businesses, and non-profit organizations.  During tax preparation, the firm also works with clients on tax projections and planning, and is able to provide financial statement preparation services.  Jimenez & Traier specializes in start-ups, and is able to provide those new companies with bookkeeping and payroll services.
Jimenez & Traier has provided these services to the LGBTQ+ communities for over fifteen years, beginning with the inception of domestic partnerships in 2004.  The firm understands the many issues facing the LGBTQ+ communities and is uniquely qualified to provide the best planning possible. As Traier explains, one of the firm's biggest advantages is its ability to interact with LGBTQ+ attorneys, financial advisors and bankers to help them attain coordination of services.  Jimenez & Traier is certified by the National Gay and Lesbian Chamber of Commerce (NLGCC).