Member Spotlight – August 2020
Our Member Spotlight for the month of August is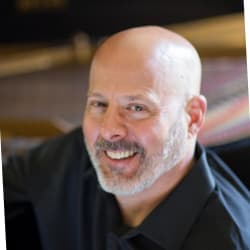 About Steven:
Steven Russell is the owner of Becoming Sound LLC, through which he offers his services as a massage therapist, yoga instructor, and freelance musician.
Steven's yoga and massage therapy clients have overwhelmingly been members of the LGBT community.  He directs his business primarily to gay men, older beginners, and those who wouldn't normally consider exploring massage or yoga.  In the 10 years that he has been a yoga instructor, he has taught at the Pride Center in Highland Park, where he has offered a yoga class for men.  He has also been teaching yoga classes for men in his home since 2012, and has taught free classes for beginners at the Monmouth County Library in Manalapan, and at other branches in Monmouth County.
As a musician, Steven retired from working for the Catholic Church in 2017, and has since been a substitute organist and choir director almost exclusively for churches that are resoundingly LGBT friendly, which he describes as a heartwarming experience.  He directed the New Jersey Gay Men's Chorus for 12 years, and now works with the Garden State Philharmonic Chorus in Toms River, where he has helped create an enriching, more friendly environment for the musicians and audience.  He directs a hand-chime choir in a senior residence in Red Bank, enabling people in their eighties and nineties to continue to challenge themselves, and present performances for their community.  Last year, he was hired by the Township of Old Bridge to create a civic chorus to perform at town events.  He also writes a regular column for Out in Jersey Magazine, titled "Out and Healthy."
Becoming Sound LLC is based in Matawan, in the heart of Central New Jersey.  Check out Steven's YouTube channel of yoga videos, music videos of his performances, and vegetarian cooking videos under the name "The Hairy Vegetarian" – info below!