2022's New Jersey Pride Chamber's Gala Award Recipients and Performers Announced
The 1st-ever awards ceremony will celebrate NJ's best and brightest LGBT+ business advocates and allies. The sold-out night will feature a star-studded lineup of performances.
Wayne, NJ (November 28, 2022) – The New Jersey Pride Chamber of Commerce (NJPCC) is proud to announce the recipients of its 1st annual Gala and Awards Dinner.
The Gala will celebrate the accomplishments of the state's best and most influential LGBTQ+ business owners and allied advocates who take inspired action to advance the queer community's economic development, inclusion, and staying power within the state.
The sold-out glamorous celebration will be held at one of Montclair's most spectacular venues, The MC Hotel on Thursday, December 1st.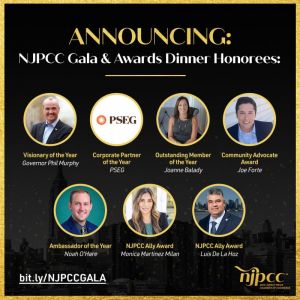 The NJPCC's 2022 Gala Award Recipients Include:
-Visionary of the Year: NJ Governor Phil Murphy for signing Executive Order No. 295 in May of this year. The order calls for the inclusion of certified New Jersey LGBT+-owned and operated businesses to be elevated among the State's pool of suppliers so they can bid on public projects. This makes NJ the 4th state in the nation to recognize and uplift LGBTQ+-owned businesses.
-Corporate Partner of the Year: PSEG; award to be accepted by Marisol Ramirez, Supplier Diversity Manager for PSEG. 
-Outstanding Member of the Year: Joanne Balady, Founder and President of Balady Promotions.
-Community Advocate: Joe Forte, veteran public servant of the Lawrence Township City Council and Vice Chair of the New Jersey Democratic State Committee (NJDSC) LGBTQ+ Caucus. 
-Ambassador of the Year: Noah O'Hare, Financial Center Manager for Spencer Savings Bank.
-NJPCC Ally Award: Monica Martinez Milan, Owner of Stumpy's Hatchet House – Greenbrook, NJ and Board Member of the New Jersey Statewide Hispanic Chamber of Commerce (NJSHCC).
-NJPCC Ally Award: Luis De La Hoz, Regional Director of Community Lending at Valley National Bank and Chairman of the Board of Directors for NJSHCC.

The awards show will feature live star-studded performances to commemorate the Chamber's meteoric growth.
Performances include:
-Comedian Julia Scotti, America's Got Talent '16, Bros (2022), Apple TV+'s Documentary Julia Scotti: Funny That Way. 
-Daniel Shevlin, Cellist from Well-Strung, the international touring pop string-quartet sensation.
-Lance Horne, Emmy Award-Winning Composer & Pianist who has arranged compositions for a myriad of A-list celebrities like Alan Cummings and Kristin Chenowith. And, he has performed for President Barack Obama and the late Queen Elizabeth.
To further mark the recipients' hard work in furthering diversity and equality within the community, this year's awardees will receive a specially designed and sculpted glass award created by glassmaking artist Rodi Rovner, the owner and founder of Hands-on Glass | Hot Glass Studio in Corning, NY. Hot Glass Studio is a woman-owned and operated small business, it was the first public access glass making studio in Corning. Additional thanks to Cody DeWert, Graphic Designer at Hands-on Glass Studio.
Guests will then celebrate the Gala's after-party on the hotel's enclosed rooftop with stunning Manhattan skyline views, where NJPCC Member and special guest DJ Gio Navarrette will get the party started on the dance floor.
"We thank our sponsors for their support of our organization, not only at this event, but year round!" said Stephen P. Blazejewski, President of NJPCC. "Their commitment to NJPCC has made our exponential growth this past year possible."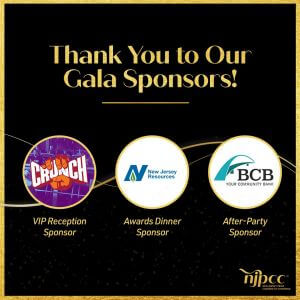 Gala Sponsors Include:
-Awards Dinner Sponsor:

New Jersey Resources
| NJ Natural Gas
-After-Party Sponsor:

BCB Bank
Gold Sponsors: TD Bank, Tito's Handmade Vodka, Balady Promotions, NJ Economic Development Authority (NJEDA), Spencer Savings Bank, and Liberty Coca-Cola Beverages, and Out Montclair.
Silver Sponsors: PNC Bank, Joe Forte for Lawrence Council, ABW Compliance Services, and the New Jersey Institute of Technology (NJIT).
The night will be emceed by Steven Garibell, NJPCC's Advisory Board Chair and VP of Diversity Business Development Strategy for TD Bank.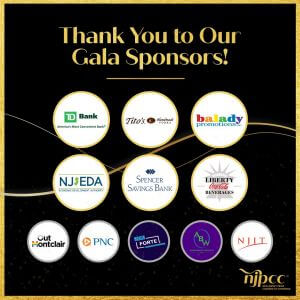 ###
ABOUT THE NEW JERSEY PRIDE CHAMBER OF COMMERCE:
Since 2013, the New Jersey Pride Chamber of Commerce has been the premier LGBTQ+ and allied business organization committed to facilitating successful business collaborations and increasing the economic staying power of its diverse membership.  As an inclusive platform for business visionaries, the Chamber is the first stop for LGBTQ+ and allied entrepreneurs seeking to grow and access opportunities. Its primary mission is to promote the economic growth and development of the local community and help to better serve its members' businesses by providing resources and opportunities for education, networking, and community engagement.
For more information, please visit https://njpridechamber.org or connect with the NJ Pride Chamber of Commerce on LinkedIn, Facebook, Instagram, and Twitter.
The NJ Pride Chamber of Commerce is an official affiliate of the National LGBT Chamber of Commerce (NGLCC). It offers LGBT Business Enterprise (LGBTBE) Certification ® as a benefit of membership with the organization. Certified LGBTBEs are routinely sought after by over 300 NGLCC Corporate Partners who are looking to increase their spend with the LGBTQ+ business community. Certified LGBTBEs are also eligible for scholarship programs, mentorship and leadership training, and other business development tools.
/// 
Media Contact:
Andrea M. Garcia
COMMS/NATION LLC
andrea@commsnation.com