New Jersey Pride Chamber of Commerce Appoints Victor Peter Rodriguez to its Board of Directors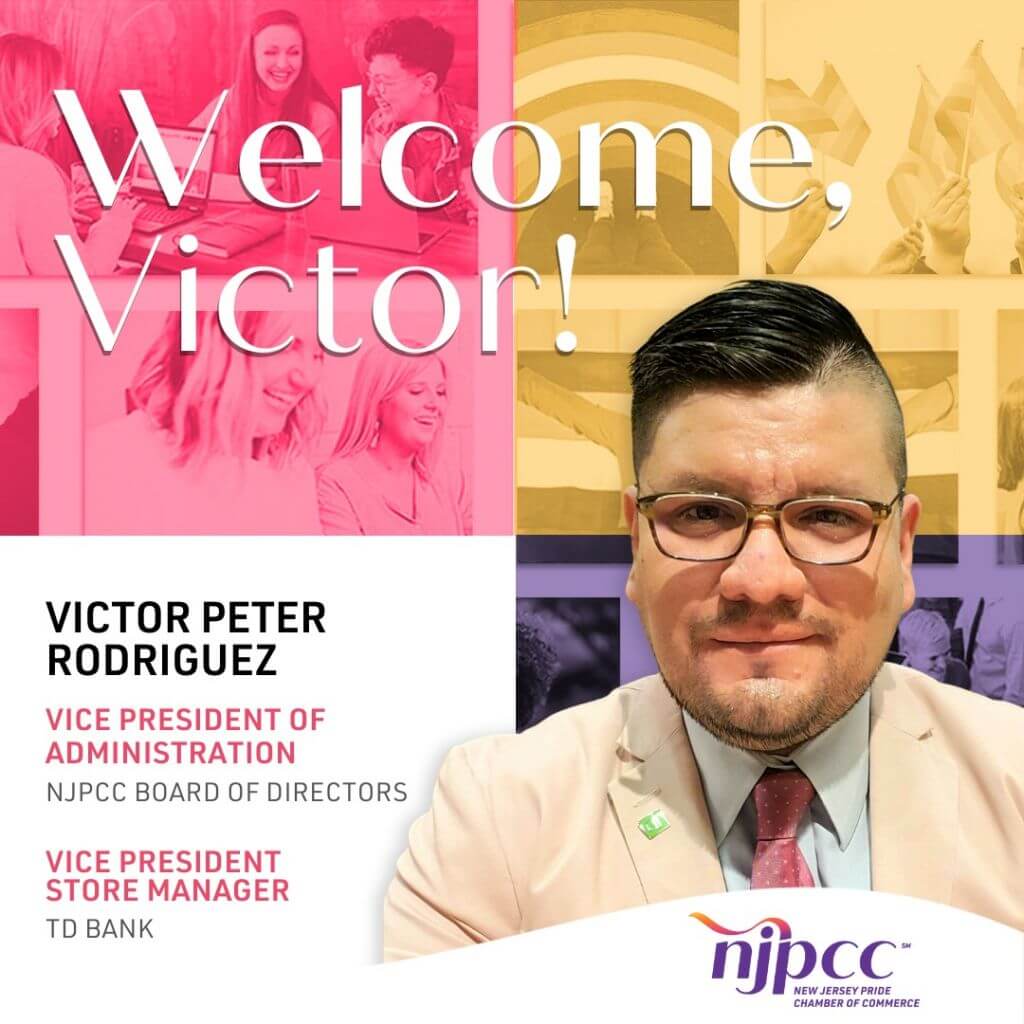 Victor Peter Rodriguez is the new VP of Administration
Rodriguez will facilitate and oversee NJPCC board meetings and manage operations as the new Chamber's VP of Administration. 
(April 14, 2022) Wayne, N.J. – The New Jersey Pride Chamber of Commerce (NJPCC) – formerly the NJ LGBT Chamber of Commerce – is pleased to announce the election of Victor Peter Rodriguez, resident of Bloomfield Township in Essex County, to its Board of Directors.
Victor Peter Rodriguez is the Vice President Store Manager III at TD Bank in the Western Bergen Passaic Region of New Jersey. Touting the motto of America's Most Convenient Bank, TD is one of the 10 largest banks in the U.S. with a full range of retail, small business and commercial banking products and services.  TD Bank is a proud Corporate Partner of NJPCC. Rodriguez's region currently supports the banking needs in New Jersey. 
"We are very pleased to welcome Victor Peter to our Board of Directors. His extensive experience in helping to serve the public from all walks of life and his familiarity with operations management will allow us to broaden our membership reach," said Gus Penaranda, the Executive Director of the New Jersey Pride Chamber of Commerce. 
In his new role as a NJPCC board director, Rodriguez will facilitate and record the chamber's executive Board meetings and oversee the updating of the organizational policies, procedures and office policy manuals.
"Over the years, I have learned that anyone can bring lasting change to a community through hard work and creating opportunities to give back. Celebrating diversity has been the cornerstone of my career. I'm very proud to support our LGBT+ business owners and allies," said Rodriguez.
Rodriguez embodies the requirements and experience needed as meeting facilitator, having fulfilled exceptional roles in the field of management, including his prior experience as a Business Manager for the fashion house brand, Christian Dior, and Vice President for Senior Licensed Cluster Branch Manager at HSBC Bank. In his current managing role at TD Bank, Rodriguez coaches and develops his team and ensures on-going training, performance management, and talent development.
Originally from Guayaquil, Ecuador Rodriguez is fluent in Spanish – an invaluable skill set as NJPCC is actively working to attract and support Latinx and Spanish communities. Rodriguez graduated from Baruch College in 2004 with a degree in Business Administration, specializing in International Marketing Management. 
###
ABOUT THE NEW JERSEY PRIDE CHAMBER OF COMMERCE:
Since 2013, the New Jersey Pride Chamber of Commerce has been the premier LGBTQ+ and allied business organization committed to facilitating successful business collaboration and increasing the economic staying-power of its diverse membership.  As an inclusive platform for business visionaries, the Chamber is the first stop for LGBTQ+  and allied entrepreneurs seeking to grow and access opportunities. Its primary mission is to promote the economic growth and development of the local community, and help to better serve its members' businesses by providing resources and opportunities for education, networking, and community engagement.
For more information, please visit http://njpridechamber.org or connect with the NJ Pride Chamber of Commerce on Linkedin, Facebook, Instagram, and Twitter.
The NJ Pride Chamber of Commerce is an official affiliate of the National LGBT Chamber of Commerce (NGLCC). It offers LGBT Business Enterprise (LGBTBE) Certification ® as a benefit of membership with the organization. Certified LGBTBEs are routinely sought after by over 300 NGLCC Corporate Partners who are looking to increase their spend with the LGBTQ+  business community. Certified LGBTBEs are also eligible for scholarship programs, mentorship and leadership training, and other business development tools.
Press Inquiries:
Andrea M. Garcia, COMMS/NATION LLC., 201.430.5082, Andrea@commsnation.com